WaterJet Technology Association History
40 Years Of Progress In WJTA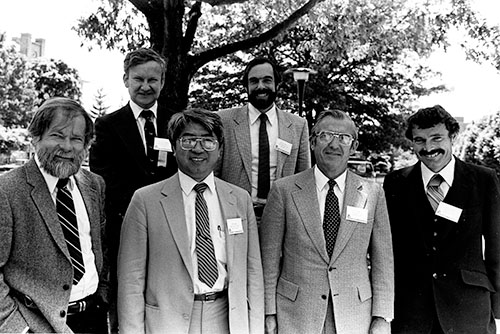 The WaterJet Technology Association (WJTA) was formed in 1983 in order to sponsor and organize biennial conferences on waterjet technology and to develop codes of practice and safety for the waterjetting industry.
The prime movers in the formation of the WJTA were Dr. Fun-Den Wang of the Colorado School of Mines and Dr. David Summers of the University of Missouri-Rolla (now known as the Missouri University of Science and Technology).
It is no accident that two mining professors (Drs. Wang and Summers) were interested in waterjet technology because waterjet technology had its genesis in one of the technological challenges of the 1850s—that is, a practical way to mine placer gold during the Gold Rush in California. Waterjet mining, usually called hydraulic mining, was developed to meet this challenge. The main tool used in hydraulic mining was a method of generating large waterjets called a hydraulic monitor.
Waterjet Technology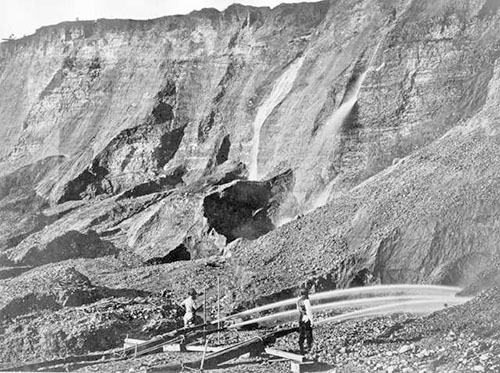 Waterjets can be applied in three technologically useful ways. These are to:
Fragment solids. For example, mining and hydrodemolition.
Separate coating from solids. For example, waterjet cleaning and surface preparation.
Precisely cut or machine solids. For example, waterjet and abrasive waterjet cutting.
Waterjet technology and the WJTA have advanced in all of these areas during the 40 years since the founding of the WJTA, but at different rates based upon economic incentives and industry need. Niche applications have been found in heavy construction and mining, but the largest market for the use of waterjets in the fragmentation and excavation of solids has been in the hydrodemolition and scarification of concrete and other construction materials.
In terms of economic applications, the most significant market gains for waterjet technology have been in the industrial applications related to cleaning, coatings and corrosion removal, and cutting. Waterjets can clean surfaces because the jetting force necessary to remove material adhering to the surface is often much less than the force that could damage the underlying substrate. In addition, waterjet impact energy can be placed in places that are difficult to access. For example, in the inside of heat exchanger tubes.
Developments in Waterjet Cleaning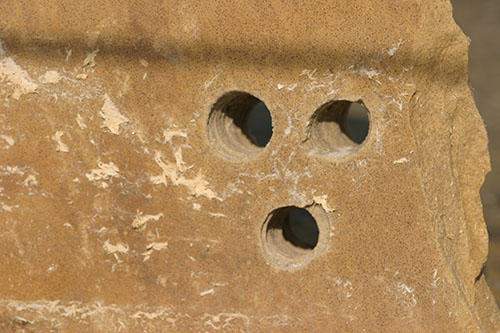 The following is an example of how waterjet cleaning benefited from early waterjet mining research. In 1981, Pat DeBusk, then of HydroServices, visited John Wolgamott and Jerry Zink of StoneAge, Inc., and other researchers at a waterjet conference at the Colorado School of Mines. StoneAge was showing a waterjet assisted rock drill, and DeBusk asked if this drill could drill plastic out of plugged heat exchanger tubes. This led to HydroServices introducing rotary lancing machines to the industrial cleaning industry.
The Colorado School of Mines was also working on a Bureau of Mines–sponsored program to develop a flexible waterjet roofbolt-hole drill for use in low headroom coal mines. This research suggested to DeBusk that flexible lances could be used to clean tube bundles from the bottom up as opposed to top down. This enabled the tube bundle cleaner to take advantage of gravity to remove cuttings. Waterjet cleaning is now used routinely in a number of process industries, especially in the petroleum industry.
Advances in waterjet cleaning also include the development of handheld shotguns, rotating jets, impulsive jets, and abrasive jets. Cleaning jets have also been automated, making possible such applications as multi-tube bundle cleaning, ship hull cleaning, sewer cleaning, and paint and coating removal. Waterjet cleaning has grown into an important industrial tool.
Waterjet Cutting Applications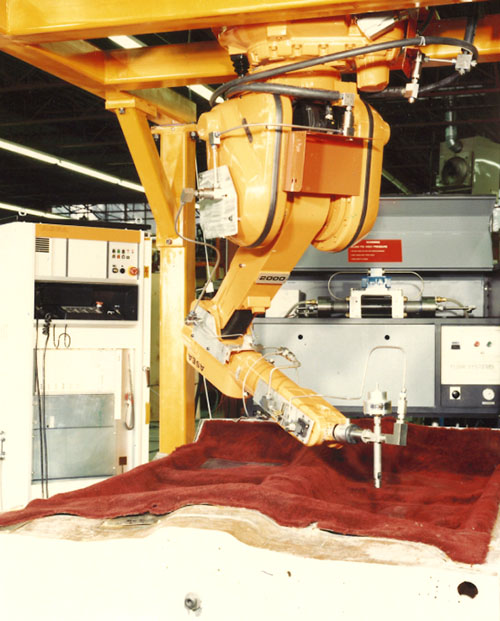 The precise cutting of solids with pure waterjets is a now a widely accepted method. Dr. Norman Franz, a WJTA pioneer, showed – working with the McCartney Division of Ingersoll Rand (now KMT) – that a precise waterjet can be formed through a sapphire orifice to slice soft materials such as wood. Commercial systems are now widely used for slitting and trimming in paper production, diapers, food cutting, and automotive applications such as cutting gaskets, dashboards, and carpets. The ability to easily manipulate a waterjet makes it possible to cut practically any configuration. The precise control of waterjets in difficult-to-access locations, for example, in the human body, has led to notable advances in surgery.
The formation of the WJTA coincided with the introduction of abrasive waterjet cutting technology by Flow Research (now Flow International), which was first reported by its inventor, Dr. Mohamed Hashish, in 1983 in the first conference proceedings of the WJTA. This new tool enabled the cutting of practically any material and significant advances have been made since then as reported in the following nineteen WJTA proceedings. Recently, exciting advances have been made in precision cutting of aircraft parts, jet engine components, glass, flash memory cards, circuit boards, and in micromachining of medical parts.
WJTA Broadens Its Scope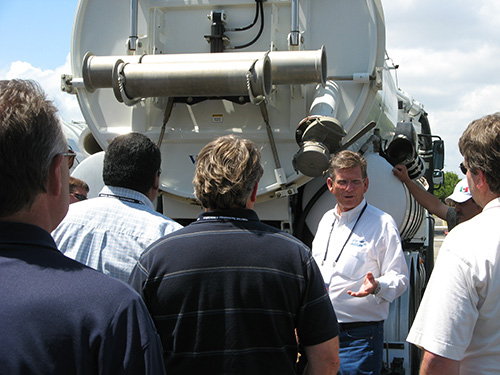 The rise of environmental awareness in recent years has led to an increased effort to control effluent from jet cutting and cleaning jobs. Many waterjet contractors combine waterjetting and high-volume air movers or industrial vacuum trucks. This, in turn, has added vacuum truck operators to the WJTA membership. The WJTA has been very active in developing safety training materials for use in the vacuum truck industry. Industrial cleaning and hydrodemolition contractors, suppliers and asset owners are presently the most active segment of the WJTA membership.
In recognition of this, the Industrial & Municipal Cleaning Association (IMCA), a special interest group within the association, was formed in May 2009 for members who have an active interest in industrial and municipal cleaning. The purpose of the IMCA was to provide a focused forum for members who are involved in industrial cleaning to communicate with each other, share ideas and knowledge, and foster closer collaborations.
WJTA's Activities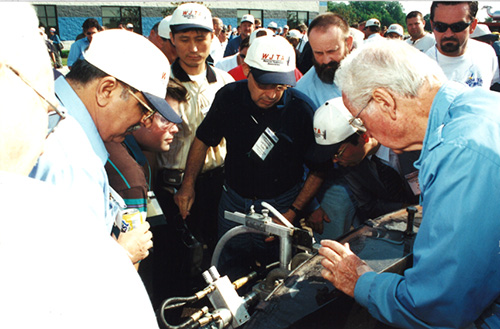 WJTA serves its members by disseminating information through a number of channels. These include the members-only periodical Jet News; manuals including the Industry Best Practices for the Use of High Pressure Waterjetting Equipment and the Recommended Practices for the Use of Industrial Vacuum Equipment; seminars; the proceedings of the waterjet conferences, and several other resources.
WJTA has continued to organize technical conferences, generating a significant body of knowledge in the form of conference papers and case studies on waterjetting and related technologies. The published proceedings of these conferences relate the latest advances in the field and are posted publicly to the WJTA website to encourage further education, development and advancement of the field.
August 2010 marked a move to a much larger venue for the inaugural WJTA-IMCA Expo held at the George R. Brown Convention Center in Houston, Texas. The Expo is held annually, and the Conference/Expo is held every two years. The larger convention center exhibit hall has allowed for large equipment and hands-on displays of industrial waterjet and vacuum equipment, and equipment is also operated and demonstrated live, at pressure onsite—a unique aspect of the WJTA Expo.
Conditions related to the COVID-19 pandemic forced the cancellation of both the 2020 WJTA Expo and the 2021 WJTA Conference & Expo, but the association returned in-person with the 2022 Conference & Expo in New Orleans, drawing enthusiastic crowds and great energy.
Developing Publications to Serve the Industry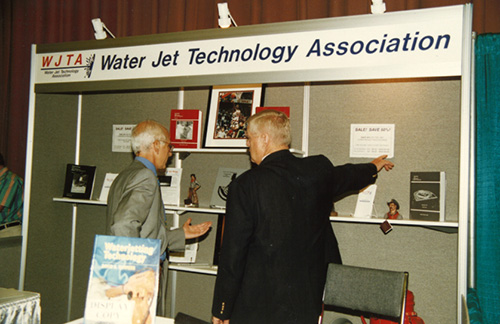 The periodical Jet News, published by WJTA six times per year, highlights the latest in new products, techniques and applications from around the world, along with safety alerts, business news and much more. The Jet News has continued to expand from its humble beginnings to provide a valuable, unique resource for the industry.
A major accomplishment of the WJTA has been the development of safety manuals and videos. Historically the majority of waterjet accidents have occurred while using manually operated high pressure waterjetting equipment. In response to these accidents, WJTA published and distributed a safety manual in 1985, the Recommended Practices for the Use of Manually Operated High Pressure Waterjetting Equipment.
In 2011, the WJTA Safety Committee reviewed and updated the Recommended Practices to include automated equipment and a color coding scheme for high pressure hoses. The name of the manual was changed to Recommended Practices for the Use of High Pressure Waterjetting Equipment.
In November 2016, a major update to the waterjetting Recommended Practices was published under a new title, Industry Best Practices for the Use of High Pressure Waterjetting Equipment, reflecting the more stringent recommendations in the document. This manual outlines the recommended practices that should be followed for manual and automated waterjet operations. It is the primary reference tool in most waterjet company safety manuals, asset owners' contractor safety guidelines, and is also used as a reference in court proceedings. The cadence of review for the document has increased, and its second edition was published in 2021 in a new full-color format.
Industrial vacuum equipment is often used in conjunction with waterjets. In 2007, WJTA developed a new safety manual, Recommended Practices for the Use of Industrial Vacuum Equipment. The most recent revision was published in a full-color format in 2021.
In 2017, the Industry Best Practices and Recommended Practices ("Orange" and "Blue" books) were also formatted into a pocket-sized operator handbook. These handbooks contain identical text and images as the full-size manuals in a more convenient and accessible size.
WJTA has also produced a medical alert card that is carried by many waterjet workers. This card gives advice to attending physicians regarding treatment of injuries by waterjet penetration into the human body. These accidents are rare, so many emergency department physicians have no experience with injuries caused by waterjets. A similar card was introduced in 2022 to be carried by vacuum operators to provide information on the potential nature vacuum suction accidents.
Since their respective introductions in 1985 and 2007, the WJTA has distributed over 70,000 hard copies of the Orange Book and over 30,000 hard copies of the Blue Book throughout the world. Additionally, over 300,000 hard copies of the medical alert cards have been distributed since their introduction.
Training and Certification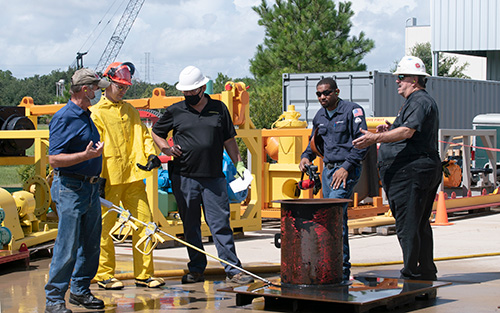 Beginning in 2017, WJTA has worked to create an entry level hydroblaster training and certification protocol. The initiative has been undertaken in response to a need in the industry for more standardized training for entry level workers primarily using waterjets in industrial cleaning or coating applications. Both contractor and asset owner training requirements can vary, contractors must contend with high employee turnover, and many contractors face challenges in maintaining an adequate safety and training culture.
To this end, WJTA has partnered with the Health and Safety Council (HASC) to develop an eLearning module WJTA Hydroblaster Foundational Training (19HBFT) to provide instruction on the WJTA Industry Best Practices. A similar eLearning module for industrial vacuum operators, WJTA Vacuum Operator Foundational Training (19VACFT), was also introduced in 2022.
The WJTA curriculum is a two-part certification comprised of Foundational Training (19HBFT) and WJTA Hydroblaster Field Verification (19HBFV). The association has approved Verified Trainers through its train-the-trainer program, who are able to deliver Field Verification in-house or for customers.
In addition to operators of hydroblasting and vacuum equipment, the WJTA has recognized the importance of training for asset owners—personnel from plants and facilities where high pressure water cleaning and vacuum loading are performed. To this end, the association has organized custom safety seminars at petrochemical facilities. In collaboration with the Houston Business Roundtable (HBR) Industrial Cleaning Committee, the WJTA has developed a brief eLearning module WJTA Hydroblasting Basics for Permit Writers (19WJTAPW), which is distributed through the Health and Safety Council.
New Programs and Initiatives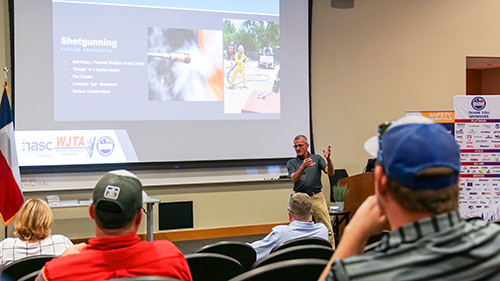 In addition to training and workforce development, WJTA has launched new initiatives aiming to promote a culture of safety and knowledge within the industry. WJTA solicits anonymous reports on incidents and near misses that can be shared as learning tools with members around the world. The WJTA was a founding member of the Global Industrial Cleaning Coalition (GICC) formed to collaborate with other waterjetting safety associations worldwide; educate on waterjet cleaning technology and automation; and to support the development of best practices guidelines in emerging markets.
With the cancellation of the 2020 and 2021 WJTA Conferences, the association launched a well-received series of live webinars, which were recorded and archived online as a members-only benefit. In 2022, the WJTA Student Scholarship program issued its first awards to seven dependents of WJTA members. More exciting programs are in development moving forward.
---
WJTA is dedicated to improving safety, technology, and trade, and your support is crucial to these efforts. Enroll as a member to support WJTA and gain access to our resources, participate in committees and more. Join Now!