EAP Industries Inc.
Main Representative
Nate Willey


Field Operations Manager
phone: 17249478680
Website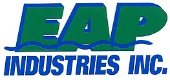 EAP Industries Inc.
1567 Smith Township State Road Atlasburg, Pennsylvania 15004
United States of America
Business Description
EAP Industries, Inc. is an environmental and industrial service company. We primarily operate within the PA-OH-WV tri-state area and have provided professional and responsive, quality service since 2000. EAP's services include: hazardous and nonhazardous waste transportation; waste profiling, manifesting, and disposal; roll off boxes and vacuum containers; wet and dry vacuum trucks/vacuum excavation; industrial cleaning and maintenance; natural gas and oilfield services; tank cleaning, removal, and Pennsylvania closure; Neptune water meters and reading systems. Make EAP Industries, Inc. your go-to environmental and industrial service company. We'll be there when you need us. Call for service: (888)294-5227.
Products
Services
Hydro-Excavation
Industrial cleaning services (industrial plant cleaning/waterblasting, maintenance for the petrochemical, refining, and pipeline industries, etc.)
Industrial service technicians
Rental equipment
Surface preparation
Vacuum Truck Services
Air mover
Liquid vacuum truck
Waterblast cleaning
Systems
Abrasive waterjet systems
Tank cleaning
Waterblasting