11/14/2023
WJTA Celebrates 40 Years with Successful 2023 Conference & Expo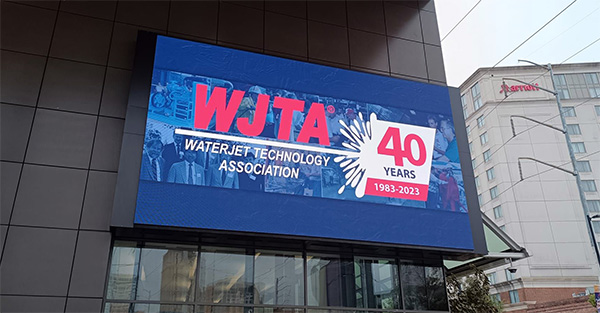 View highlights from the 2023 WJTA Conference & Expo:
WJTA 2023 Photo Gallery
The WJTA Conference & Expo returned to New Orleans October 30-November 1, drawing an energetic crowd for the association's 40th anniversary celebration.
The event kicked off on October 30 with parallel daylong educational courses – the Waterjet Technology Basics & Beyond Short Course, presented by an expert faculty, and Sewer Cleaning 102, presented by legendary trainer and consultant Rusty Nezat.
The exhibit hall opened on October 31, with a variety of suppliers and service providers displaying new technology and equipment. Advances in automation technology, vacuum loading, high pressure pumps, tooling, and many ancillaries and services were on display for attendees to evaluate.
Technical sessions continued on October 31 and November 1 covering a variety of topics relating to safety, technology and equipment. A new, unique session was an open discussion moderated by Bill Holladay of Amerapex. The discussion had the theme "because we've always done it this way" and looked at hidden safety hazards that are taken for granted in routine industrial cleaning operations.
The outdoor live demonstrations are a popular and unique part of the WJTA program, and the 2023 demos were a highlight of the event. This year's demonstrations included Hammelmann Corporation, HPC Industrial, Jetstream of Houston, LLP, NLB Corporation, Safetech UHP Solutions, and StoneAge, Inc. New high pressure pumps, controls, automation technology, nozzles, PPE, and drone inspection equipment were all demonstrated live for an excited crowd.
Following the demonstrations, WJTA President Jimmy Peck kicked off the 2023 Awards Ceremony in the exhibit hall. Click here for a recap of 2023 WJTA awards. Special thanks to A.M. Gatti and crew who designed and fabricated the WJTA awards.
The awards ceremony led into the Industry Appreciation Reception, featuring complimentary beverages in the exhibit hall sponsored by SPIR STAR. The reception was an ideal opportunity to reconnect with old friends and colleagues and continue to meet with vendors to discuss applications and equipment solutions.
The WJTA has announced a shift to an every-two-year show pattern, and the next full conference and expo will be held in November 2025. Details will be available on the WJTA website and will continue to be announced through the association's newsletters and social media.
A new social and networking event will be held in 2024 to continue to give association members an opportunity to connect and collaborate, and new association programs and resources will be announced in the coming year.