6/15/2022
WJTA Vacuum Operator Foundational Training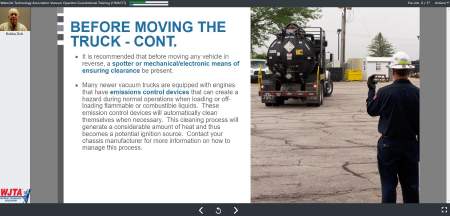 The WaterJet Technology Association (WJTA) has released a new eLearning module in partnership with the Health and Safety Council (HASC). Vacuum Operator Foundational Training (19VACFT) is a 2.5 hour eLearning module based on the association's Recommended Practices for the Use of Industrial Vacuum Equipment (Blue Book).
Successful completion requires an 80% passing score on the multiple choice verification quiz, after which trainees receive the FT credential valid for 3 years. The 19VACFT curriculum will be reviewed and updated frequently to reflect any updates to WJTA's Blue Book.
Vacuum Operator Foundational Training is the first segment of a two-part certification. The Vacuum Operator Field Verification is an instructor-led training and skills verification including both classroom and hands-on. The curriculum and checklists for Field Verification are currently being finalized, with the program rollout projected for 2022.
Foundational Training provides a consistent, standardized introduction to terms, applications, and safety best practices around air mover, liquid vacuum, sewer cleaner combo unit, and hydro/pneumatic excavator operations. The concepts introduced in Foundational Training are then reinforced through the in-person Field Verification.
Vacuum Operator Foundational Training (19VACFT) can be taken onsite at the HASC, at an Association of Reciprocal Safety Councils (ARSC) site, or remotely through the HASC's remote proctoring system.
For details contact the WJTA office by email at wjta@wjta.org or call 314-241-1445. Information on the 19VACFT course is available on the HASC course page .