8/5/2021
WJTA Hydroblaster Training Curriculum Updated to Include Automation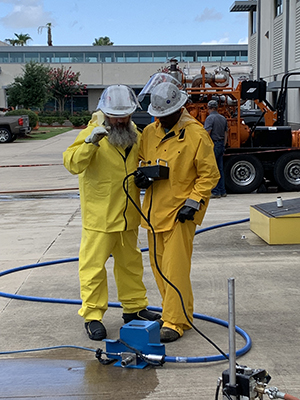 The WaterJet Technology Association (WJTA) hydroblaster training and certification has been updated due to demand from contractors and asset owners for instruction around automated surface, pipe and tube cleaning.
The updated program maintains the two-part structure comprised of a computer-based training (CBT) module (Foundational Training) – and a classroom and hands-on instruction/skills verification (Field Verification).
The updated Foundational Training (FT) module includes additional detail on automated hydroblasting safety guidelines reflecting the most recent edition of the WJTA Industry Best Practices for the Use of High Pressure Waterjetting Equipment. Other edits have been made to ensure clarity and alignment with updated WJTA best practices.
The Field Verification (FV) curriculum, which is delivered by a WJTA-approved Verified Trainer, has been updated extensively to include automated shotgunning, line moleing and flex lancing in addition to manual cleaning techniques. The classroom instruction provides an overview of common automated system types, advantages of automation, and safety considerations. Hands-on instruction and skills verification covers safety rules and setup common to different hands-free systems across the industry.
Standardized training and certification is an important step to ensure consistent terminology and practices between regions and industries; propagate a training curriculum is frequently updated with any changes in industry best practices; allow for easy verification of credentials and portability between employers; and to elevate the perception of high pressure water cleaning as a skilled craft. Most importantly, the program can help improve safety by communicating up-to-date industry best practices to contractors of all sizes through the country.
To learn more about WJTA training and certification visit www.wjta.org or contact the WJTA office at wjta@wjta.org.