6/4/2019
Notice of Pricing Change for Medical Alert Cards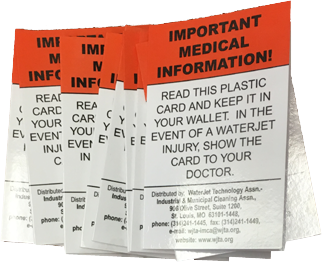 Effective June 4, 2019, the pricing for WJTA Medical Alert Cards has increased as follows for both English- and Spanish-language cards.
1-10 cards – $0.65 member / $0.95 non-member
11-99 cards – $0.60 member / $0.90 non-member
100-249 cards – $0.55 member / $0.85 non-member
250 or more – $0.50 member / $0.75 non-member
WJTA has always priced the medical cards close to breakeven as a way to promote safety in the industry and will continue to do so. These changes are taken in order to keep up with increased printing and production costs.
The wallet-sized Medical Alert Card contains valuable suggestions on dealing with a waterjet injury, as well as important information for the attending physician. To ensure that the doctor knows and understands the cause of the injury, all waterjet operators are encouraged to carry the Medical Alert Card.
If you have questions about the price change, please contact Peter Wright in the WJTA office at +1-314-241-1445 or wrightp@wjta.org.
To view or order WJTA medical alert cards, click here to visit the online store.