mvt AG
Main Representative
Sergio Leung


Sales Manager
phone: [41](32)3329760
fax:
Website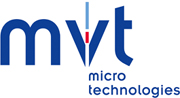 mvt AG
Spaersstrasse 5 Port, 2562
Switzerland
Business Description
mvt AG is engaged in the development, construction, manufacturing and distribution of high-performance nozzles, systems and components for waterjet technology and is the original manufacturer of the MONRO-JET® nozzle. Our nozzle product range includes sapphire, ruby, diamond, ceramic and tungsten carbide. For our customers from various application areas, we also manage special nozzles such as snow, fog and cleaning nozzles. Please don't hesitate to contact us. We would be proud to develop and produce your own nozzle.
Products
AWJ accessories (e.g., focusing tubes, cutting heads)
Fittings, valves, lances, nozzles, and orifice inserts
Pumps- over 20 ksi
Services
Research & Development
Consulting
Engineering
Systems
Abrasive waterjet systems
Heat exchanger cleaning
Hydrodemolition
Machining/slitting
Sewer/pipe cleaning
Surface preparation
Tank cleaning
Waterblasting