Transfer Oil S.P.A.
Main Representative
Ugo Ferrari


CEO
phone: [39](0521)3139
fax: [39](0521)814160
Website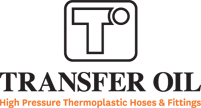 Transfer Oil S.P.A.
Via Sacca 64 Colorno, 43052
Italy
Business Description
Transfer Oil S.p.A., with more than 30 years of experience, are today one of the major independent thermoplastic and PTFE hose manufacturers for various applications in the medium, high, very high and Ultra High Pressure range. Since its founding all products manufactured by Transfer Oil are made in Italy. With a constant attention for quality and innovation, Transfer Oil continue to grow its strategic partner base and product range to offer solutions for a variety of specialized industries. Our distribution network in more than 65 countries around the globe is certain to offer quick availability for whatever your demand of thermoplastic hose products may be. With a total capacity of more than 13 million meters (42 million feet) per year.
Products
Services
Hydrodemolition
Hydrostatic testing
Industrial cleaning services (industrial plant cleaning/waterblasting, maintenance for the petrochemical, refining, and pipeline industries, etc.)
Mining applications
Surface preparation
Sewer cleaner combination machine
Waterblast cleaning
Systems
Abrasive waterjet systems
Heat exchanger cleaning
Hydrodemolition
Sewer/pipe cleaning
Surface preparation
Tank cleaning
Waterblasting